Career Wahi Jo Star Banaye
Arena Animation is one of the leading animation institute in India. Join us for best courses in animation, visual effects, gaming, web and graphic design, AR, VR. Arena Animation is the Animation & Multimedia education arm of Aptech Ltd. Over the past 25 years, Arena Animation has trained more than 450,000 students. The company is headquartered in Mumbai, India and has education centres in over 20 countriest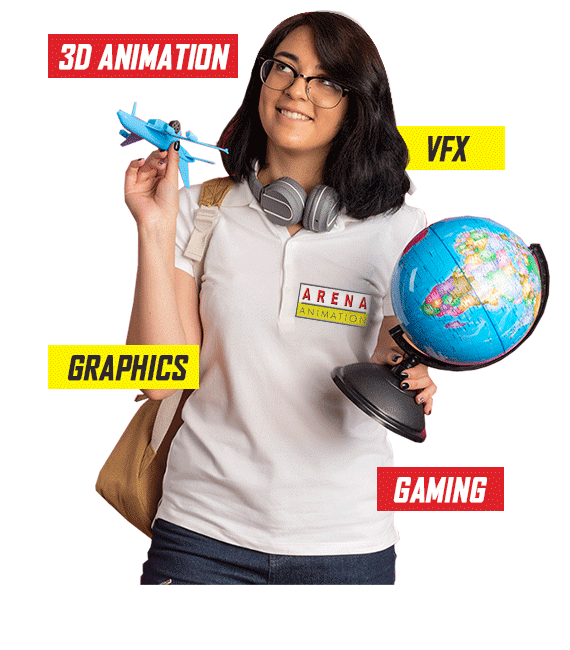 Arena Animation is one of India's best and most experienced animation training & education providers. The Institute has trained more than 4,50,000 students in 20 countries around the world.
Since 1996, Arena Animation has focused on providing quality education in animation, VFX, gaming, web & graphics, broadcast, digital design & marketing, and multimedia. Arena students have got good job placements with major Indian & international studios.
Industry Leader since Last 27 Years.
Trained more than 4.5 Lakh Students.
Onlinevarsity for Students.
E-books, video tutorials and other material are available on Online varsity.
Students are encouraged to take part in National and International Competitions.
Variety of career courses and short-term courses tailored to the needs of students and working professionals.
Job-Ready Student-Workshops and events are organized to encourage student-industry interaction and prepare students to be industry-ready.
Quality Faculty – Certified and Well-Trained faculty who teach the latest techniques in the animation industry using cutting-edge software.
Placement Activities – Job fairs, campus placement drives, etc. are conducted for students to get suitable job placements in the industry.
Classes with arena animation have been fun. Her way of teaching and making difficult things easier so that one can understand and remember everything. I recommend this classes to everyone.
Best animation and vfx institute in surat
great learning
Arena is best institution in surat for animations and vfx thank you for make my future more bright
I have learn animation and VFX course arena animation one of the best institute in surat and staff is very supportive,Thank you arena animation for giving me this opportunity.
Teaching style is good
Nice field
Friendly learing
Team work
One of the best animation and vfx institute in surat. I learned here and started my own advertising company. I recommended arena animation to all students
ARENA ANIMATION CITYLIGHT
© Copyright 2021. All Rights Reserved – ARENA ANIMATION SURAT | Designed and Developed By Creative Kshetra